Punjabi market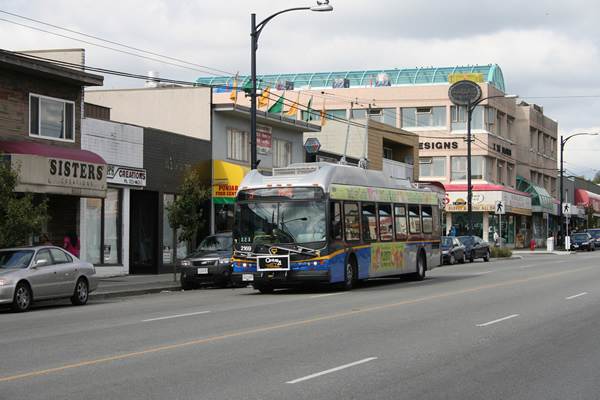 Punjabi Market is an area of Vancouver also known as Little India, and as might be expected it's full of everything Indian! Punjabi Market may not be as famous or as large as Vancouver's Chinatown but it's just as important for its East Asian occupants, and if you'd like to sample some excellent and traditional Indian food, buy clothing, or anything else from this part of the world, this is the best place to come!
Where is Punjabi Market?
Punjabi Market is in the SoMa area of Vancouver. SoMa is the common name for South Main, meaning the southern end of Main Street. Punjabi Market and Little India itself is focused in a relatively small area between 48th and 51st Avenue on Main Street.
You can reach Little India by public transport from downtown Vancouver. The easiest way is the take the SkyTrain to Main Street / Science World, then catch bus number 3.
Punjabi Market Attractions
Punjabi Market is an attraction within itself! Not really a 'market' in the commons sense of the word, this is more a strip along Main Street where you'll feel that you've been transported to another place entirely. Shops and restaurants line the street and if you're looking to buy some jewelry this is definitely the place to come – Punjabi Market has the highest concentration of jewelers in the whole of Canada!
In addition to jewelers you'll find everything Indian, from shops selling saris, Bangra music and of course curry restaurants. If you're longing for an Indian meal, you can find some of the best and most affordable curry restaurants here in Punjabi Market.
Sikh Temple
Further southeast from Little India is the Sikh Temple which is worth a visit if you're in the area. This Temple was designed by local architect Arthur Erickson, and its award winning design encompasses traditional Indian architecture with a modern slant.
You are allowed to look inside the Temple as long as you follow traditional customs which are leaving your shoes at the door and for women to cover their heads with a scarf.
Sikh Temple

8000 Ross Street (off SE Marine Drive, near Knight Street)
V5X 1A1
Vancouver, B.C.
604-324-2010