Queen Elisabeth Park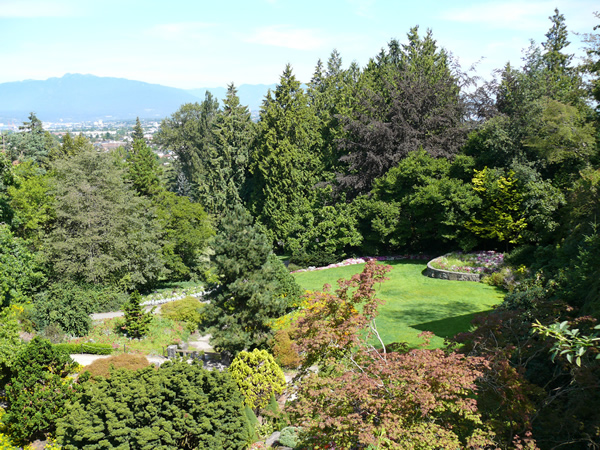 Queen Elizabeth Park

Queen Elizabeth Park – enter off 37th Avenue for free parking
V5X 1C5
Vancouver, B.C.
604-874-8336
Queen Elizabeth Park is the second most visited park in Vancouver (after Stanley Park, of course!), though is also famous for being the highest point in the city, standing at 501 feet (167 meters) above sea level. As you can probably imagine, this means the views from Queen Elizabeth Park are absolutely stunning!
The Park was officially named in 1940, following a 1939 visit by King George VI and Queen Elizabeth, though it wasn't until 1948 (after the World War) that this former quarry began to really take shape. Over the next 20 or so years it was developed into what it is today.
Where is Queen Elizabeth Park?
Queen Elizabeth Park is in the area called Fairview which is south of the city center and Granville Island. You can reach the park by public transport – the best Translink bus to take from Downtown Vancouver is number 15.
Queen Elizabeth Park is also accessible by car, and paid parking is in effect to help pay for the maintenance of the park. Alternatively you can get here by bicycle on the Midtown/Ridgeway Bike Route or the Ontario Street Bike Route.
Queen Elizabeth Park Attractions
Entrance is free to Queen Elizabeth Park so you can come along and simply enjoy the gardens and the elevated position from which you get some great views of the city, the mountains and the surroundings.
The Park has an area of 130 acres (over 52 hectares) and the aim was to include a specimen of every single tree native to Canada. There are actually 3000 trees here, 1500 of which are within the outdoor arboretum.
Queen Elizabeth Park Highlights
Bloedel Floral Conservatory
The Bloedel Floral Conservatory is set within a large triodetic dome and features both plant and bird life. It was named for the donator who made the Conservatory possible, Prentice Bloedel, in 1969. There are over 100 birds of differing species here plus exotic and tropical plants, koi fish and more. The Conservatory is open 7 days a week between 10am and 5pm.
Queen Elizabeth Park Arboretum
A real highlight of the park is the beautiful trees in the Arboretum of which there are about 1500. Planting first started here as early as 1949 and the collection of native and exotic trees has been growing ever since.
The Fountains
Water has always played an important part in the Queen Elizabeth Park, and in April 2007 the latest water feature was opened. The dancing fountain is quite spectacular and uses 70 jets and 85,000 liters of re-circulating water.
The Quarry Gardens
As mentioned above, the Queen Elizabeth Park was previously a working quarry, and many of the gardens have been developed using the huge quarry excavation. The main Quarry Garden is close to the Bloedel Floral Conservatory and features many beautiful and colorful perennials and annual flower beds, plus there's a cascading waterfall and stream running through. The smaller North Quarry Garden is situated next to the renowned 'Seasons in the Park' restaurant, and is a dry garden which has many oriental horticultural influences.
Queen Elizabeth Park Activities
As well as enjoying all the floral displays, water features and trees, Queen Elizabeth Park has a number of activities for those who like to keep a bit more active! These include 18 Tennis Courts which are free for half an hour's play, Lawn Bowling, and Tai Chi which is practiced here nearly every morning, as well as the following:
Disc Golf
Also known as Frisbee Golf, is a lot of fun! It's like golf but instead of using a club and balls you use a Frisbee! The great thing is that it's free to play and is an excellent game for a group.
Queen Elizabeth Park Pitch & Putt
This is an 18 hole pitch and putt course which was opened in 1962 and is the highest pitch and putting Vancouver! The holes are short and contoured par 3's: none of them are over 110 yards, and without hazards to contend with this course is great for beginners and fun for those with more experience. You don't have to book a tee time in advance, and if you need clubs, caddies, tees and balls these can be rented from the Pro Shop. The Queen Elizabeth Park Pitch and Putt is open daily from February through November, from 8am to dusk.
For further information on everything you can see and do in the Park, visit the main Queen Elizabeth Park Website.