Lynn Canyon Park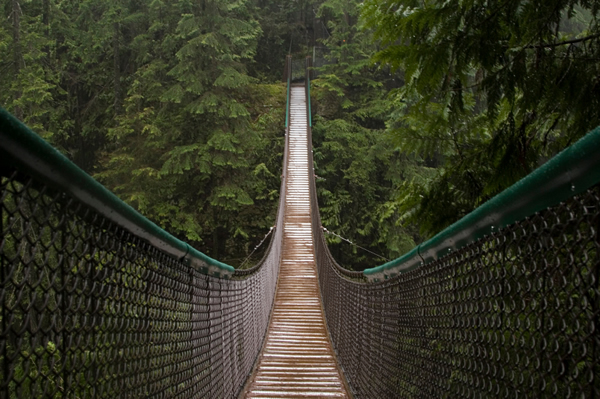 Where is Lynn Canyon Park?
Lynn Canyon Park

Entrance at end of Peters Road
Vancouver, B.C.
604-984-3149
Lynn Canyon Park is in North Vancouver within the Lynn Valley and is a little way north of the Second narrows/Ironworkers Memorial Bridge. This makes getting to Lynn Canyon Park very easy from downtown as it's just a short drive over the bridge.
Coming from Downtown Vancouver by Transit is easy too. Take the SeaBus over the Burrard Inlet to Lonsdale Quay and from there catch bus # 229.
Lynn Canyon Park Attractions
Lynn Canyon Park is run by the District of North Vancouver which means that it's a public use park and it's free to enter and enjoy the facilities.
Officially opened in 1912 as a park of just 12 acres, the park boundaries have since been increased to an impressive 617 acres (270 hectares) to offer visitors miles of trails, picnic areas, services, natural beauty and more. The highlight for many visitors though is the Lynn Canyon Suspension Bridge, which you can read about below.
Lynn Canyon Park Highlights
Lynn Canyon Suspension Bridge
Set amidst the forest trees and connecting the two halves of the park across the canyon is the Lynn Canyon Suspension Bridge. Not as famous, as long or as high as the Capilano Suspension Bridge, the benefit here is that it's free to enjoy and not hounded by such large crowds either. This bridge is 50 meters high above the river and the experience is just as fun!
Lynn Canyon Ecology Centre
Whether you're visiting Lynn Canyon Park just for the suspension bridge or you're here for the day and making the most of it, you should plan a visit to the Ecology Centre. Entrance is by donation and you can see interesting displays here on the sort of biodiversity you can expect to find in the area.
Other attractions
If you do feel like enjoying some walking or hiking there are a great many hiking trails to enjoy here at Lynn Canyon Park. The forests are lush, second growth temperate rainforest and there's a popular summertime spot upstream from the suspension bridge with appealing crystal clear water at the '30 Foot Pool'. Downstream you can see the Twin Falls which are crossed by a wooden bridge.
For more information on the trails, the suspension bridge and everything else you can do at Lynn Canyon Park, including opening hours, please visit the District of North Vancouver Lynn Canyon Park webpage.