Lighthouse Park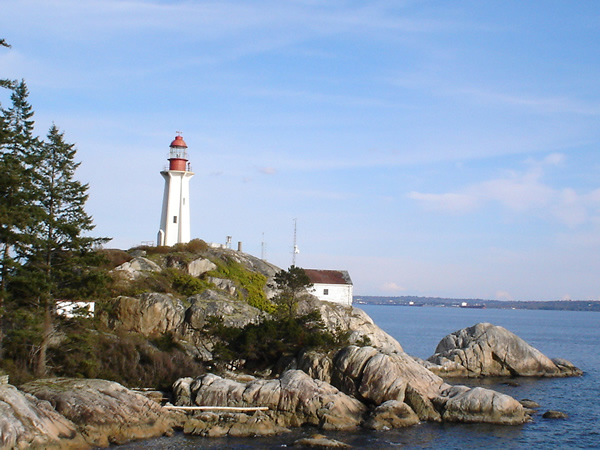 Where is Lighthouse Park?
Lighthouse Park is situated in West Vancouver on the south western tip, called Point Atkinson. The park is accessible by Transit bus # 250 from Downtown Vancouver, or you can drive here by crossing the Lions Gate Bridge, then left onto Marine Drive which you follow for a good 5 or 6 miles (8 to 9.5 km).
Lighthouse Park Attractions
Lighthouse Park was named after the lighthouse which sits on Point Atkinson and although the current lighthouse was constructed in 1912, there has been a lighthouse on this site since 1874. In the late 1800's the area was set aside as a lighthouse reserve by the Government of Canada and hence it was preserved for future generations. Lighthouse Park is now maintained by the District of West Vancouver and provides a number of walking trails, picnic areas, great views and more amongst the 185 acres (75 hectare) site to which admission is free.
Lighthouse Park Highlights
Hiking
There are about a dozen hiking and walking trails at Lighthouse Park which cut across and around the park, taking in both the shoreline and woodlands, as well as views. Park maps at the parking lot kiosks illustrate the various routes you can take, adding up to the total 6.2 miles (10 km) and illustrative signs along the way describe what you are seeing.
The Lighthouse
Although you can enjoy some great views of the lighthouse you cannot actually get too close to it because this area is off bounds to the public; it is, after all, a working lighthouse!
Viewpoints
There are four scenic viewpoints in Lighthouse Park including the Lighthouse Viewpoint, so for great views of the landscape and coast, head to one of the viewpoints on the trails.
Picnic Areas
There are several picnic areas around Lighthouse Park for visitors use, as well as washroom facilities.
To find out more about the trails, the history of the park, and further information please visit the District of West Vancouver Lighthouse Park page.