Vancouver Maritime Museum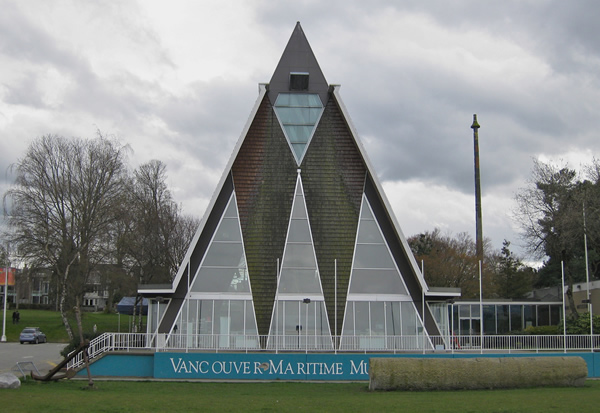 Vancouver Maritime Museum

1905 Ogden Avenue
V6J 1A3
Vancouver, B.C.
604-257-8300
Where is Vancouver Maritime Museum?
The Vancouver Maritime Museum is in Vanier Park in the Kitsilano area of Vancouver. Vanier Park can be reached by using bus #22, or for a more scenic route take the False Creek Ferry from the Aquatic Centre on Sunset Beach in West End, to the Vanier Park dock. From here it's just a few minutes walk.
If you're in Vanier Park you may also like to visit the Vancouver Museum and the HR Macmillan Space Centre which are about 5 minutes walk away. See our Vancouver Museum and HR Macmillan Space Centre pages for further information.
Vancouver Maritime Museum Attractions
The Vancouver Maritime Museum was opened to the public in 1959 and since that time the main feature of the museum has been the famous Royal Canadian Mounted Police Schooner, St Roch. The museum has added many other exhibits over the years and although not the largest of museums it is a legacy to the very important maritime history of Vancouver.
Vancouver Maritime Museum Highlights
The St Roch
The St Roch dates from 1928 and was used by the RCMP (Royal Canadian Mounted Police) as an Arctic patrol ship. It experienced many adventures during its life at sea including becoming the first vessel to navigate the famous Northwest Passage in both directions. The ship has been restored to what it was like in 1944 and in addition to seeing it from the outside you can go onboard as well.
Children's Maritime Discovery Centre
A large part of the museum is taken up by the Children's Maritime Discovery Centre which has lots of hands-on displays for children of all ages. Features include the chance to go inside a full-size replica of the wheelhouse of a tugboat, and include activities to teach children all about fishing, maritime life and protection.
The Ben Franklin
See the restored submarine named the Ben Franklin, and find out all about its history and special Gulf Stream Drift Mission.
Exhibits
In addition to the above there are other exhibits, both temporary and permanent for visitors to enjoy.
To find out more about the exhibits, plus opening hours and admission prices visit the Vancouver Maritime Museum Website.