UBC - University of British Columbia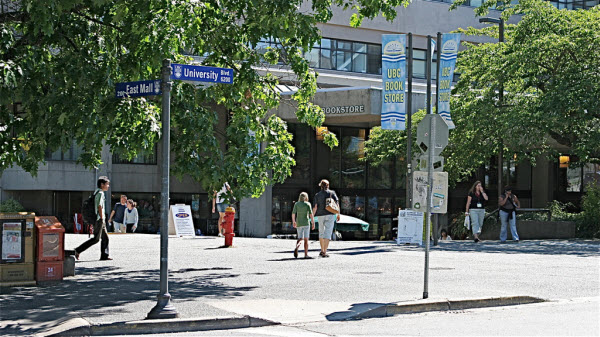 University of British Columbia

2329 West Mall
V6T 1W5
Vancouver, B.C.
604-822-2211
Where is UBC?
The University of British Columbia (or UBC as it's also commonly known) is technically not inside the City of Vancouver, but sits on a huge 1005 acres (402 hectare) piece of land which makes up what's called the University Endowment Lands – lands granted to the university a century ago. This is on a peninsula to the south west of Downtown Vancouver, and is quite a distance out.
Now you can visit the grounds and a variety of attractions even if you're not studying there, though once you've visited you're sure to be tempted to try to enroll for something as the place is so appealing!
To get the University of British Columbia you can take the very pleasant drive out of the city along the coast of the Burrard Inlet on Marine Drive which takes you right into and around the perimeter of UBC. If you're traveling by transit, you can use the express 99 B-Line or regular buses numbered 4, 9, 17 and 41.
UBC Attractions
As mentioned, the University of British Columbia is set amongst quite spectacular grounds and is accessible to the general public. Once you've visited you'll wish you were a student again! You can simply enjoy the grounds if you fancy getting out of the city for a while, and if you want a longer stay there is also some accommodation here (see our Campuses page for further information).
UBC also features three of Vancouver's most favorite beaches; the acclaimed Museum of Anthropology; the UBC Botanical Garden and more.
UBC Highlights
Museum of Anthropology
With an emphasis on the areas First Nations cultures, but including a variety of global cultures too, the Museum of Anthropology is one of Vancouver's best museums. Read more about the museum on our Museum of Anthropology webpage.
UBC Botanical Garden
 One of Vancouver's most popular gardens consists of 10,000 trees within the 70 acre (28 hectare) plot. Read more about the UBC Botanical Garden here.
Pacific Spirit Regional Park
Adjacent to the University of British Columbia, and cutting across the peninsula is the huge Pacific Spirit Regional Park, the largest park in the city, consisting of over 1900 acres (763 hectares). This park separates UBC from the rest of the city, and is a popular spot for a number of outdoor activities including walking and hiking – there are nearly 34 miles (54km) of trails, over half of which are multi-use so you share them with cyclists and horseback riders too. There is also a 12,000 year old bog, called Camosun Bog where you can see many native bird and plant species. The Park Centre provides information on the park and is a good place to pick up maps and trail guides too.
Pacific Spirit Regional Park

Corner of Blanca Street and West 16th Avenue
Vancouver, B.C.
604-224-5739
Nitobe Memorial Garden
One of North America's most authentic Japanese gardens gives visitors a taste of Asian horticulture. Full details can be found on our Nitobe Memorial Garden page.
UBC Beaches
The University of British Columbia has three of Vancouver's favorite beaches: Wreck Beach, Spanish Banks and Locarno. Read more about these great places on our Vancouver Beaches page.
University Town
 If you fancy soaking up a little more of the student culture at the University of British Columbia, venture a little further into the campus itself. Here you can enjoy reasonably priced drinks and meals as well as a free campus walking tour or the free entry, contemporary art, Belkin Gallery. Visitors can also make use of the UBC Aquatic Centre which is open to the public for swimming.
For further information on everything you can see and do at the University of British Columbia visit the UBC Website.